Hey there! Some links on this page are affiliate links which means that, if you choose to make a purchase, I may earn a small commission at no extra cost to you. I greatly appreciate your support!
Hidden cameras are often used for subtle surveillance by businessmen, investigators, or homeowners.
It's easy to see why someone might want to keep an eye on what's happening inside of their house while they are away on vacation or at work.
Some people have even installed hidden cameras in their homes due to theft, vandalism, fire dangers, and other security reasons. In this article, we will be looking at the best hidden cameras for house without WiFi. Let's dive in:
What Are Hidden Spy Camera for House Without WiFi?
Hidden spy cameras without WiFi are surveillance devices that can be placed inside or outside of homes and businesses to monitor the surrounding area.
They do not require Wi-Fi access but instead store footage on an internal memory card after being activated using a remote control or timer.
Hidden spy cameras without wifi have become increasingly popular with homeowners and business owners who wish to keep an eye on their property when they are not around.
These devices come in a variety of styles, shapes, and sizes so you can choose a model that is best suited for your needs.
Best Hidden Security Camera without WiFi?
| | | | |
| --- | --- | --- | --- |
| Item | Image | Features | Price |
| KONPCOIU Mini Body Camera Video Recorder - Camera Motion Activated | | 110-degree wide-angle lens. ultra-mini body 90-degree rotating camera. portable battery and shoot video at 1080p | |
| Yumford 32GB Hidden Camera Clothes Hook | | Records in 1080p Full HD at 60 frames per second. Built-in rechargeable lithium-ion battery | |
| Winsper 32GB Hidden Camera Photo Frame, HD 960P No WiFi Needed | | Pinhole camera technology. HD quality video resolution at 1600x1200pixels and 30fps | |
| Newwings Hidden Camera Wall Clock Nanny Cam with Motion Detection | | 1080 pixels and motion detection. stylish and discreet | |
| SIRGAWAIN Hidden Spy Camera Pen 1080p  | | 1080p HD spy pen. resolutions of up to 1920x1080 | |
| LDPMade Upgraded Spy Camera Charger Bundle No WiFi | | 1080p HD video. 3 years of warranty coverage | |
What is the Best Hidden Security Camera without Wifi?
Before buying a security camera, one of the questions you should answer is whether you have an internet connection.
If you answer no to the question, then you should look for a hidden camera without internet connectivity.
While these cameras will not give you real-time updates, there will still be recordings that you can go back to later. As such, you can also bank on them to offer the best security for your business/home.
Some of the qualities you should look out for in a security camera without Wifi include:
Resolution
​You need to have a clear quality in your image feed if you are looking for accurate identification of people whose images are captured by the security camera.
Night Vision
This feature ensures that any intruder caught on camera during night hours is properly identified as well as the scene of the crime since it provides clear images even in low light settings.
Memory Capacity
Ensure you have a high memory capacity to enable storage of a reasonable number of hours of footage without running out of memory space over time. This will help save on costs since you won't have to transfer the recordings manually from the camera via an SD card or USB flash drive.
Zoom Capacity
A camera with zoom capability offers a closer look at faces and license plate numbers which can prove crucial to an investigation. E. Portable Design
This feature allows you to move the hidden camera around for better coverage of specific areas within your premises.
6 Best Hidden Security Cameras for House without WiFi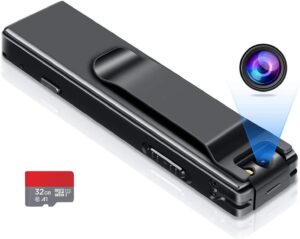 Are you looking for a small body camera video recorder but don't want to sacrifice image quality? With this Mini Body Camera Video Recorder, you no longer need WiFi to monitor your surroundings and record videos.
The camera has a 110-degree wide-angle lens which allows you to capture all your best moments in HD quality real-time! Best yet, insert this tiny video recorder battery into any USB charger and charge for 2 hours or less – BOOM, you now have over 30 hours' worth of recording power.
Its ultra-mini body 90-degree rotating camera bends, rotates, and pivots for easy shooting. Additionally, the camcorder can be used as a portable battery and shoot video at 1080p, which captures a wider perspective angle than a smartphone. Moreover, you can connect to your TV with an HDMI cable.
This small, inconspicuous clothing hook camera that records in 1080p Full HD at 60 frames per second. The lens is hidden into the shape of the clothes hook without any light flashes or sound during recording.
Even better, it has a built-in rechargeable lithium-ion battery that can last for up to 120 minutes with continuous recording.
It's perfect for surveillance purposes like nannies, housekeepers, and pets around your home while not attracting any attention to itself.
The full HD 1080P camera set and filters make for natural color and excellent video quality. This camera also has motion detection mode so will automatically save videos every 30 minutes to document events.
Additionally, it comes with a 32GB T-Flash card which should last about 1 year depending on use. However, we always recommend getting an external SD card reader to use different types of cards depending on what you need them for.
The Winsper HD Camera Frame is much more than just a frame for memories. It's the perfect way to view any room without always being in it.
It uses no wire, no-mess design, and pinhole camera technology with HD quality video resolution at 1600x1200pixels and 30fps. Additionally, it's activated by motion, you'll be guaranteed not to miss anything.
When you take video, don't forget to angle the lens slightly upwards so that it will have a better vantage point of what is happening in its specified focus area. You can be confident about capturing every party moment when encountering the many moments in life- parties, trips, friends reunions- never miss anything!
Plus each frame also sports an SD card slot and comes with 32GB of storage capacity (expandable up to 128 GB), allowing you to record your special videos without worrying about running out of space fast! The camera built into this ordinary-looking picture frame is undetectable.
The Newwings Hidden Camera Clock is a stylish and discreet way to keep an eye on your home, office, or even the baby's room.
With 1080 pixels and motion detection, this simple device captures all of life's moments that can't be captured with your naked eyes. The captured footage can be uploaded to many popular cloud storage sites.
It also will automatically record everything happening in real-time for those who want something as quickly as possible. The perfect gift for members of law enforcement or private detectives looking to covertly surveil their surroundings – plus any parent who wants more peace of mind!
With portability, compactness, and one-click operation SIRGAWAIN's 1080p HD spy pen is the ultimate discreet recording system. The camera can be used anywhere you want to record video undetected at resolutions of up to 1920×1080.
Capture clearer footage for presentations or selfies with this portable recording device. Upload recorded content directly from its USB plug into any computer without hassle through a simple fast charge interface.
Even better, this interface also recharges the internal lithium-ion battery quickly back to full power for hours of covert audio/video surveillance. Its 3MP still images capture fluent HD video to catch every important moment for later viewing on devices like TVs, tablets, laptops, and desktops.
The upgraded spy camera charger bundle is a simple plug-in that you can use to charge or power your devices. With this product, you no longer have to worry about battery life since the charger lets you watch 1080p HD video for up to 5 minutes on one 32GB card before overwriting the file.
This bundle comes with 1 week of cloud recording protecting the data should something go wrong.
For peace of mind, enjoy 3 years of warranty coverage with free shipping and guaranteed first-year upgrades for any defects during the normal usage period along with lifetime customer service.
Best Hidden Security Cameras for House Without WiFi [Buying Guide]
Hidden spy cameras without wifi, you should first understand how they function, their advantages, and their limitations. This will help you decide which model is most suitable for your needs.
Pros of Hidden Security Cameras Without WiFi Connectivity
Saves Power Consumption
Since it does not have to be connected to a power source, a cable-free security camera saves on energy costs since it can rely on batteries or solar power instead.
Portable Design
Because there is no need for an internet connection, the camera can be moved around since there is no risk of disrupting the live feed.
Affordability
You should not expect hidden security cameras without Wifi to be exorbitantly priced. The best models provide good value for money.
Difficult to Hack
Since these cameras do not rely on the internet, they are less likely to be hacked.
Cons of Hidden Security Cameras Without WiFi Connectivity
No Live Feed
When compared with its online counterparts, a hidden camera without Wifi does not provide real-time updates and may only record what happens when it is in motion. This makes it difficult to keep tabs on what is happening at home or in the office.
No Audio
Since most hidden security cameras work without audio, there may be times when you do not get to hear any suspect talking even if their images are captured on camera. This means that identifying them and gathering evidence will depend entirely on what you see in the footage they leave behind.
Only Good for Surveillance
As opposed to online cameras that can also be used as baby monitors or keep an eye on pets, these hidden security cameras only serve one purpose – surveillance.
Factors to Consider when Choosing a Hidden Camera without WiFi 
When you step out to buy a hidden security camera for your house without wifi, there are various things you need to consider.
Here are some of the key factors that will guide you in making an informed decision on which hidden camera to buy:
Resolution
You should always be looking at getting the highest resolution possible. While these devices come with varying degrees of resolution, it is always advisable to go for one with at least a 720p resolution. This will ensure that the footage captured is of good quality and can be used in important proceedings such as identifying criminals or proving liability in accidents.
Camera Lens
The camera lens is another key factor you should put into consideration when choosing a hidden camera without Wifi connectivity. Look for one with a wide viewing angle since it will give you the flexibility to set up where you want.
Storage Capacity
The storage capacity of most hidden security cameras without Wifi is very limited, with most featuring only 16GB. While this may sound sufficient, most users end up deleting footage more frequently if they are uploading them on their computers. As such, it is advisable to go for a model with at least 32GB of storage capacity so that you have enough space to store the footage up until you get a chance to save them.
Battery Life
Some models run on batteries while others rely on solar power. Whether you choose one over the other will depend entirely on your preferences. Those that rely on solar power are more reliable since there will be no risk of running out of power while recording, but may prove to be quite expensive in the long run.
Cost
When it comes to hidden security cameras without Wifi connectivity, you can expect different models to come with a wide range of prices. It is advisable not to opt for the cheapest in the market. Instead, look at getting one with good value for money.
Hidden Spy Cameras Without Wifi: How They Work
Hidden spy cameras without wifi work in a largely similar way to other surveillance devices. The main difference is that they do not require an internet connection to transmit images, instead of using motion sensors and internal memory cards to store footage when triggered by motion or noise.
To use the device, you must insert an SD card or USB flash drive. The memory card is used to store the video feed whenever it is triggered, while the USB drive can be used to download footage onto your PC for easier viewing.
Instructions may vary depending on the model you choose. As such, make sure you read the instructions carefully before using your device.
Risks Associated with Hidden Spy Cameras Without WiFi 
While hidden spy cameras without wifi offer many advantages, they also come with some risks. Here are some of the main risks associated with these devices:
Access to Personal Data
Since there is no need for an internet connection to transmit data or live feed, these cameras can be made very small. This means that they can easily be concealed in everyday objects such as clock radios, wall clocks, smoke detectors, and even stuffed toys.
Easy to Lose Footage
Since these cameras do not come with an internet connection, you must remove the memory card or USB drive to access the footage it captured. It is also possible for footage to get overwritten if you are unaware that motion has been detected.
How to View Hidden Camera Footage without WiFi
Once you have downloaded the footage from your hidden camera without WiFi onto a PC, you can view it using third-party video player software such as Windows Media Player and VLC Media Player. Simply connect your USB drive or memory card to the computer and play the footage.
You must watch the footage on a screen larger than what is required for the hidden camera itself, to get a clear picture of what is being recorded. You can also connect the device to your TV for easier viewing.
Best Hidden Security Cameras For House Without WiFi Conclusion
The best hidden security cameras for house without WiFi are those models that are reliable, easy to use, and require little maintenance.
When deciding on which device to buy, make sure you take into consideration storage capacity, ease of access to footage, reliability of the brand-name model, battery life, and video resolution quality.
Additionally, you can buy disguised cameras that look like everyday objects, including USB devices and wall clocks. These are especially useful if you want to set up surveillance on a budget since they will not require any maintenance fees.
Best Hidden Security Cameras For House Without Wifi FAQS
What is the best-hidden security camera without wifi?
The best home security system should have night vision, motion sensors, and clear graphics without Wifi. The device must also be equipped with a built-in DVR to capture footage, video monitors to view recorded images, and an external memory card capable of storing hours of recorded video.
What other features should I look for in a hidden security camera without wifi?
Before purchasing a hidden security camera, make sure it is made of high-quality materials. Since the device will be concealed inside your home or office, it must also be easy to use and free from complicated controls that can interfere with its operation. Look for one with a minimum of 40 feet of night vision capability to ensure you can view images in complete darkness.
How much do hidden security cameras without wifi cost?
Hidden spy cameras are available on sites such as Amazon, with some models selling for as little as $17. If you are looking for quality surveillance equipment that is easy to install and not as expensive as traditional surveillance equipment, the hidden spy camera is a good choice for you.
How can I prevent someone from stealing my home security cameras without wifi?
There are many ways to prevent theft of your hidden security cameras, including placing them in hard-to-find areas such as behind objects on high shelves or under furniture near the floor. You can also attach the device to walls, ceilings, and other surfaces with double-sided tape for easy concealment.
What is the best way to install hidden home security cameras without wifi?
Hidden spy cameras are small enough that you can place them in your home or office using any number of methods. Some models come equipped with a magnet so you can simply attach them to any metallic surface. Others have an adhesive back that allows you to stick them on walls, windows, or behind objects without leaving a trace.